Both are racket sports, both are played on a similar looking court with a net in the middle, both are hitting things back and forth. Both have their origins in England and adhere to strict rules of etiquette. It's common that tennis and badminton often get lumped together. But is it fair? No. Because actually they are very different sports.
Let's see how much you know.
Which sport is faster?
Which sport do they run more in a single game?
Which sport has more shots per game?
The answer to all three: Badminton.
Booyah.
Yep, you might think that it is impossible for badminton to be a faster sport than tennis. After all, in badminton you hit a light feather birdie and in tennis you hit a heavy ball. Doesn't the laws of physics just mean that tennis is faster?
Nope. because of the style of hitting. In tennis the ball is heavier, which means it drops quicker. You are even allowed a bounce before hitting it. In badminton you must hit the birdie while in the air. And while it is high in the air, you can do a jump smash, using the full weigh of your body and really get that birdie whizzing. Would you believe it is even faster than a golf ball?
Which sport do they run the most? Both sports it's hard to tell when just watching the game. Confined to a court it's hard to see how much an average player runs.
But thanks to sports statistics people have actually measured this out and compared them. An average tennis game is much longer than an average badminton game. A tennis game (best two out of three sets) can last 3 hours. A badminton game (best two out of three games) is a little more than an hour. Badminton is almost two hours shorter.
Yet, in that shorter amount of time a badminton player runs twice as much as a tennis player and hits the birdie also twice as much. So, shorter time, more hits and more running. A badminton player has to be fitter. A game of badminton is much more face paced and high speed. Here are the stats laid out: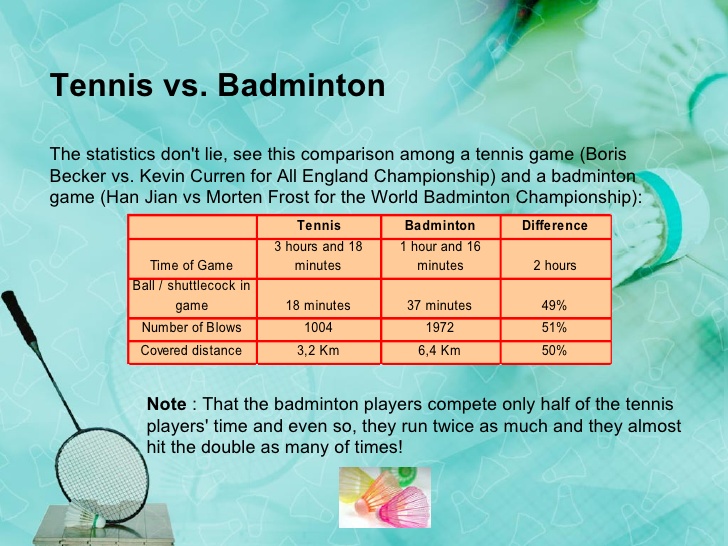 Tennis is the clear leader in one category: prize purses. If you win Wimbledon you take home almost 3 million dollars. The All England badminton competition? About half a million all together. The winners bring home a prize on the tens of thousands, not even close to their tennis counterparts. This is a bit of a sore spot in the badminton community. Not just compared to tennis, but basically every sport ever. Pro athletes in other sports can totally support themselves by winning competitions. Top badminton players always need endorsements and other financial support to keep up their game.
So, I'm tired of the comparisons between the two. Players know there is a difference, but most Americans don't know much about badminton so assume it is basically the same as tennis (only easier). And I know all the tennis players are gonna get mad at this but badminton is clearly the harder, and superior, sport. (Hey, what else did you expect from a Badminton Becky blog post?)