The week between Christmas and New Years was a sad week for badminton. I had my last week of classes (final exams) and I had the holidays, a birthday, an anniversary, a company meeting and some other events to deal with so I was crazy busy. But I was psyched, I was organized and I was looking forward to it.
Two days before Christmas I went to a hot springs resort and picked up a cold. (I swear it was this kid behind me on the bus who was coughing and sneezing and not covering his mouth. The little bastard.) Suddenly I had all this stuff to do and no energy to do it. I can't cancel Christmas, or my job, but I can cancel badminton, so that is what I had to do. I was really looking forward to waking up on Christmas morning and heading to the court for training with my coach. But sunday night I had to cancel.
I managed to play one day, Wednesday, because my friends Xiao He came back to Xiamen and I wanted to play with him (the most loyal readers of my blog will remember that Xiao He was my friend who introduced me to my coach so he's important in my badminton life.)
It was actually a really fun day of playing. My coach was in a really cheery mood. ("Why are you so happy?" I asked as he was kinda dancing around the court. "Because Xiao Bing is here!" he said. "Shut up," I laughed back.)
I was hitting back and forth for awhile and with my coach prowling the sidelines the guys also hitting on the court asked me to sit down so they could play men's doubles with my coach. I go all "crocodile tears" when that happens and make a big show of leaving just to make it extra annoying for them to try to dismiss me.
"You can take a break," one friend said.
"Xiao Bing doesn't need a break," another friend said. My stamina is well known.
"Of course I don't need a break! I haven't even started playing yet!"
My coach was laughing throughout this all and told me to play on the opposite team, 3 vs. 2. He then called over a female university player and we played three vs. three.
It was hilarious and totally terrifying. The guys on both our teams didn't hold back, so it was men's doubles with two girls stuck in the front. We had to crouch a lot, just to stay out of harms way, but not too low because we had to get all net shots and drops. (The girls also did all the serving.)
It was so funny, and the six of us who played are maybe the six most competitive people in our group, so there was no way we were gonna let the other team win. There was lots of cheering, and high-fives over every point won.There was only a few crashes and hitting each others racket which was pretty good considering.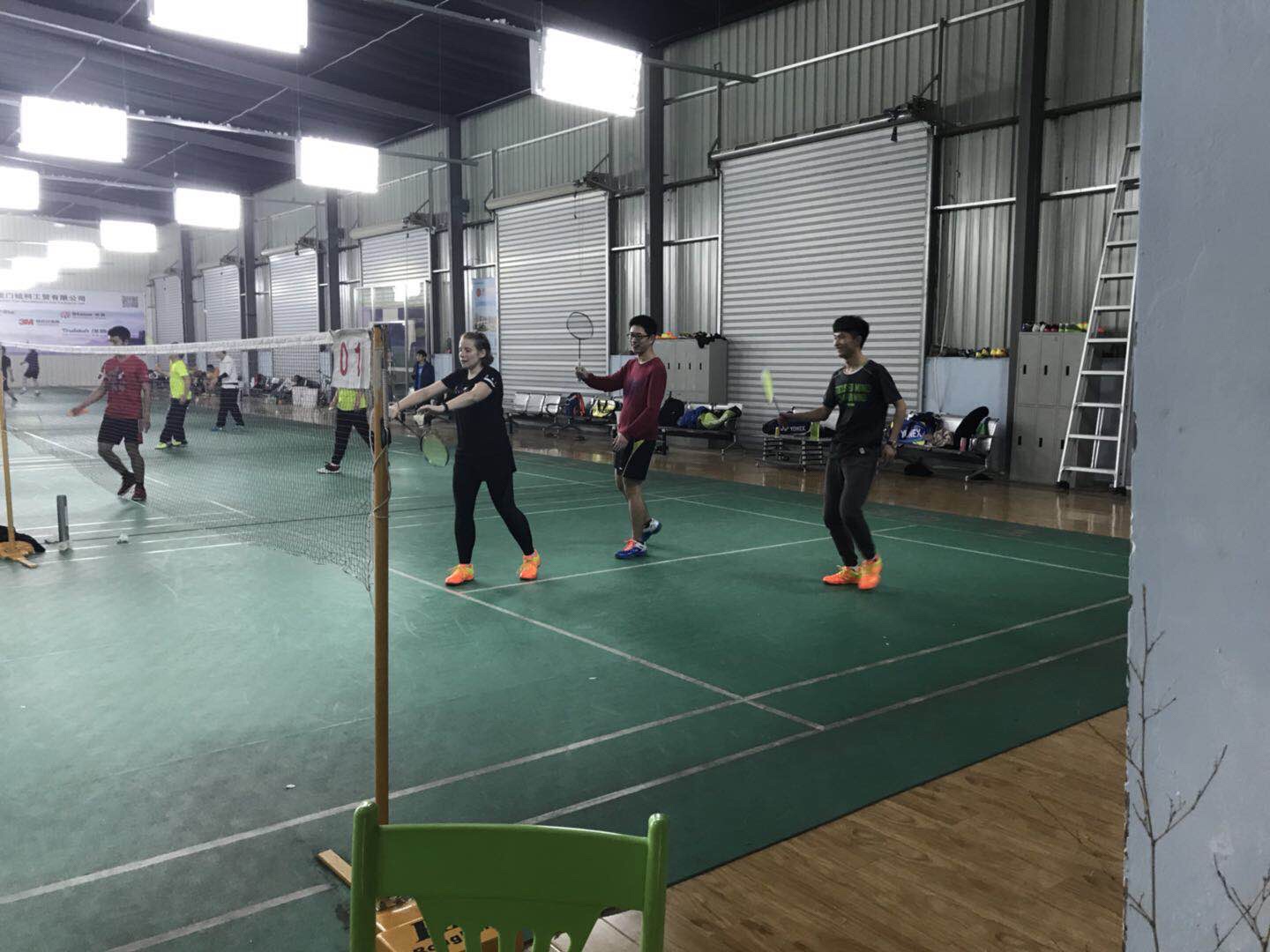 After two games like that (in which my team won both thankyouverymuch) I went off and played with Xiao He. Last time I saw him he had surgery on his Achilles heel and he was only just beginning to move normally when he moved away. In the months since he's been gone he's been playing badminton again, though now focusing on doubles instead of singles.
We played several games with various opponents from my club and won most of them. I was also very excited thinking how badminton totally cured my cold and how great I felt.
Why did I tempt fate?
I suddenly began sweating when I wasn't moving. Cotton filled the space where my brain was and while I knew where I should go, my body refused to go.
We played on valiantly, but with my diminishing energy we ended up losing our last games of the night. After three hours, I had to call it an early night as I knew going on would only make things worse.
The next day I woke up feeling even worse and took two more days off badminton. Then, I had to play Saturday because I had a competition on Sunday with Azhi and I wanted to get in a little practice. Again I tried not to play too much, but before I knew it three hours had gone by and I was exhausted. I managed to rally during the competition (more on that later) but now, three days later, I still have no energy.
So in the week between Christmas and New Years I played badminton a mere three times. I know for most people that normal bit for me it's a major slacker week. And I know I was sick, so it's okay, but last year I spent Christmas and New Years, and everyday between, on the badminton court.I actually prefer spending the big holidays on the badminton court (versus a party with my foreign friends) but this year, I just got my assed kick. What happened to badminton magic?! It has always helped me before.
Not the most auspicious start to the new year.