This blog has been a bit thin recently, not because I have nothing to write about but because I have TOO MUCH to write about. These days I am packed with badminton, Chinese lessons (I've started again), prepping for my birthday competition and the badminton training camp, entering competitions, my own training  and my own writing. And…I think I have a job or something too? Anyway, I'm busy and blogging has taken a back seat.
I've started a few entries but never finished them. I wanted to write one about my coach who won second place in men's singles and how he should be happy (proving he's the second best player in the city at the moment) he is NOT happy because he got second and not first. (A feeling that I, his tudi, disciple, know well) Also, he's in the middle-aged group, not the young person one, which depresses him. But I'm still hella proud and he will continue onto the provincial level competition. Jia you coach!
I was also gonna write a blog post about the weather, and how I need time to acclimatize to the change in heat. It is not pretty. My heart rate has increased a lot during playing and training (a normal game I can get around 120bpm, but these days it's closer to 140bpm for the same amount of effort.) My body just has to work that much harder to combat this heat. I know I'll get used to it and it's already better now a few weeks into it, but man oh man, does it suck.
I was also gonna write a blog post about how I recently had a few guests at badminton. One was my friend Lele, an American who works in China. She was coming to Xiamen and wanted to try badminton, seeing as I never shut up about it. I invited her to the foreigner group, where everyone speaks English, and everyone was really nice to her and helped her out since she didn't know how to play. She had a competitive spirit though, so she wanted to kill the opponent and even asked us how to smash. ("How do you get the shuttle to go down?" she asked. "Every time I hit it, it goes up!")
I also had a blog reader come to Xiamen (Hi Duane!) and ask to play with us. He came all the way from Canada toting his racket so while I didn't know his level, I figured he was good enough to play with my regular club. (While my club members would all be nice to a total beginner, it's not really appropriate because of their higher level.) Turns out he's been playing since childhood and held his own in my club. In fact, despite not speaking any Chinese he jumped in and played and kept yelling out commands in English even though no one knew what he was saying, haha. My coach played with him a few times and was disappointed when he realized Duane didn't live in China but was just in town for a few days. But he'll be back and is welcome to my courts anytime.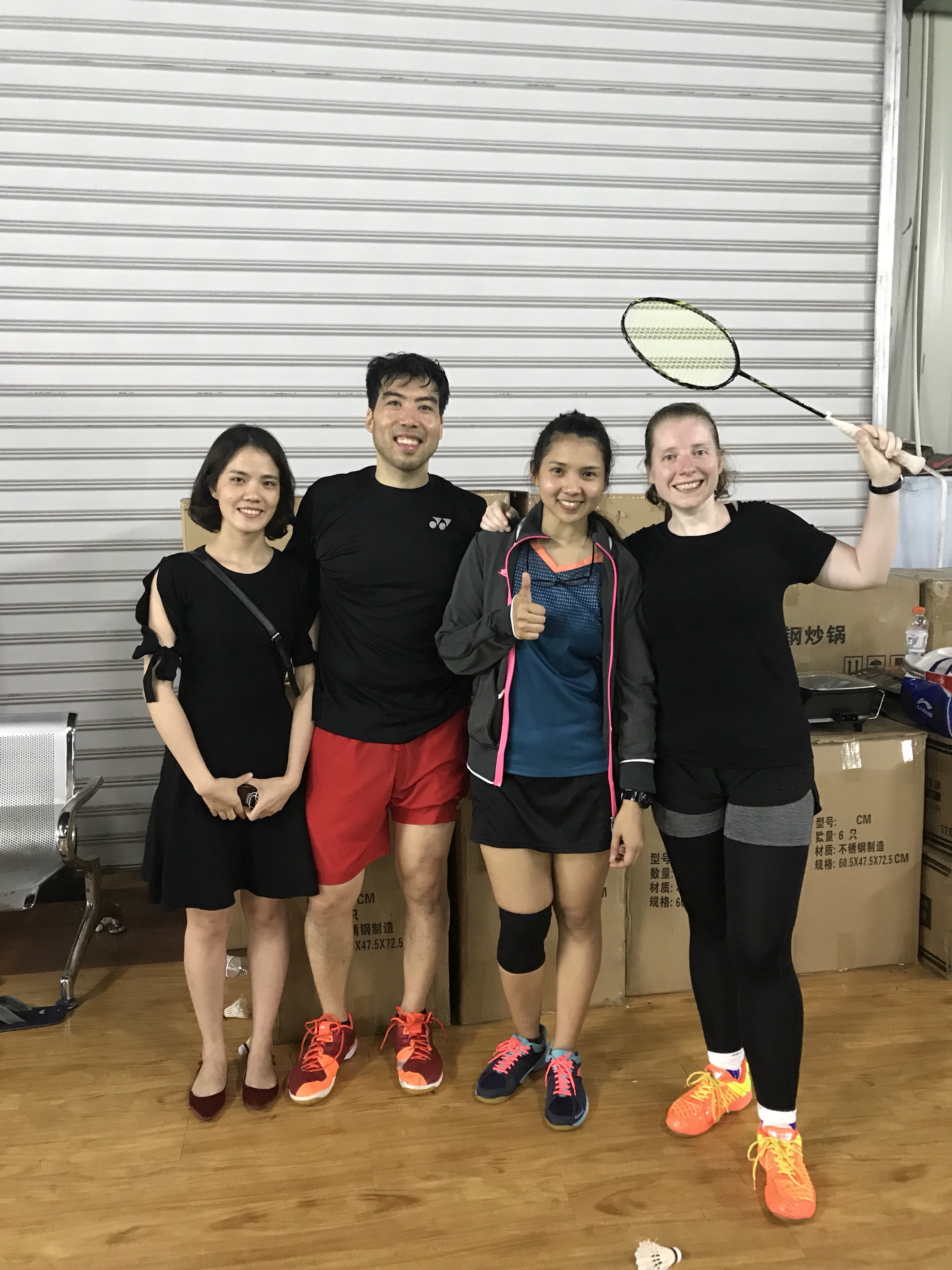 And meanwhile I've just been training and playing my little heart out. I have the Yonex Women's Competition this weekend (which already had a ton of drama for me just to play) but I'll report on it all next week. Also, even though the temps are higher (or maybe because of it) people have been playing longer and later. I arrive at 6:30 and usually leave by 10 but for the past few weeks I haven't left until 11pm or later! The last bus home is at 10pm and I haven't been able to catch it for awhile because I'm still playing. Not at all good for my sleep schedule, but something about the late-night sessions has a feeling of camaraderie and friendship which I like a lot.
So please excuse me if my blogging is a bit thin these days. It's not at all from the lack of excitement or news, but rather because I'd rather be out there playing/training/organizing rather than writing about it.