Well, I'm at it again. Due to popular demand I'm resurrecting the Becky Cup for my upcoming birthday!
Honestly, it was stupid of me to do it now because it is the week my classes end and only a few weeks before the badminton training camp, so I'm already super busy with a lot of stuff to plan and organize, but I got requests for it and hey, it's my birthday right? No better way to spend my birthday than surrounded by friends all enjoying badminton.
The theme of this Becky Cup is "The answer to life the universe and everything." Get it? Cause it's my 42nd birthday. (If you don't get it then you need to read more!)
Last time, for my 40th birthday, I was a relative newcomer to the badminton world. I had met my coach several months prior but it was just him and me training in the university courts once a week. He didn't have his courts yet so I just played with the foreigner group. I didn't know many Chinese players.
But now I'm a part of several clubs so getting the word out has been more labor intensive. I also have to do everything in two languages because some of the foreigners can't speak Chinese and most of the Chinese people can't speak English. A lot of my club members are too shy and feel "stupid" if they can't speak English so they avoid anything with foreigners, so I haven't told them foreigners will be playing. I think they have kinda figured as much, but I never outwardly said so, heh heh.
I got cool medals (with dragons on them) and of course I'm ordering custom shirts with my dragon logo. What can I say? I was born year of the Dragon and it is a part of my Chinese name, so I am really embracing the dragon theme.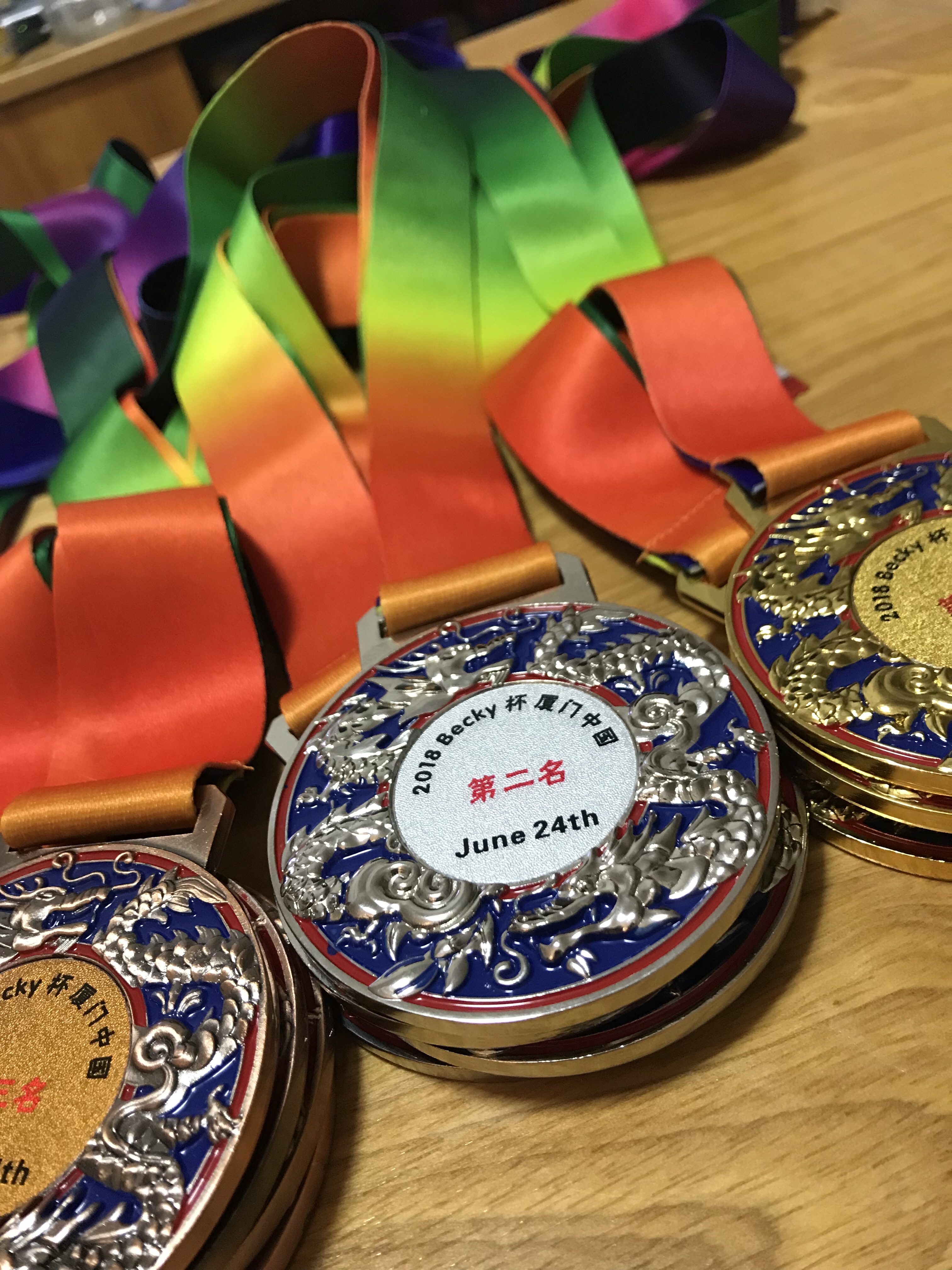 Aside from that, things have just been crazy. It's end of the semester and aside from all the grades and paperwork, I have to deal with contracts and passport stuff as well. And then on top of that there is just a bunch of random but important things like a friend who moved away 3 years ago coming back for a visit, and another good friends birthday all in the same week.
So I've had to take a few extra nights off badminton and when I go I'm distracted. Two nights ago I was on the bus going to the courts and just stewing at the woman standing too close to me on the bus. (The bus was half empty and yet she was standing right next to me all up in my space! ) I was so unreasonably angry at such a small thing I knew I wasn't in the right headspace before I even started playing. I usually go to badminton with a sense of excitement and joy, but that night I stomped to the courts ready to yell.
I've said I was disappointed because I haven't been able to play with good players recently, and unfortunately, that night was the night all the good guys came to club night. I would have been a tough night if I was playing my best, but that night I had so much on my mind I couldn't focus on anything and I was just in a pissy mood I lost pathetically. I couldn't even get mad at anyone because it was club players I like and they were all better than me. I ended up apologizing to my partners before we played, something I haven't done for a long time. My coach was astounded by my stupid shots (my default mode is "strong" so when I'm tired or distracted I just wack the shit out of everything that comes near me with no thought of strategy.)
I'll have one more busy week and then things will calm down for a bit before the training camp so I'll wait until then to beat myself up for playing poorly. Speaking of the training camp, registration has officially closed unless you are already in China or don't need a visa (aka passport holders of Singapore, Brunei and Japan). The close date for those people will be June 30th. If your eligible and want to join then please contact me! The people that are coming seem not only excited for it but really into badminton and wanting to improve. It will be nice for me to be around such serious players who can also speak English!