So the Olympics are having their closing ceremonies, and countries are celebrating their achievements. And while I had an awesome time watching the games with my coach and group, I can't help but feel sad in the end.
Why? Well, let's go back in history a bit.
Like I said in my last post the Lin Dan/Lee Chong Wei match was the highest anticipated match of the Olympics. It was a semi-final game, but it was more anticipated then the gold medal match. That's because it was the third Olympic match-up, and last time for the two living legends of badminton to meet in such a big event. (They will both retire soon.)
See, Lin Dan (from China) and Lee Chong Wei (Malaysian) are the Batman and the Joker of badminton. Not that one is evil and one is good, but basically, those two wouldn't be as great if the other one wasn't around. Almost the same age, these two have been battling it out on the courts for decades, pushing each other to play as best they could, with Lin Dan always managing to squeak out the win.
In the past two Olympics before Rio, Lee Chong Wei was always left with silver. World championships too. In fact, if you go to his Wikipedia page, you'll see he has very few gold medal achievements, silver reigns supreme, while Lin Dan's wikipedia page has gold medal after gold medal. lee Chong Wei is forever the bridesmaid to Lin Dan's bride.
These guys are in their mid-30's and almost retired last year, but Lee Chong Wei decided to keep at it for a year, and Lin Dan also decided to postpone retirement.  (I saw an interview in which the reporter asked Lin Dan if he postponed retirement because he didn't want Lee Chong Wei to dominate, and Lin Dan said no, but everyone feels like that was a big part of his decision.)
And Lee Chong Wei really brought the pressure this year. He climbed up to the number one player in the world (Lin Dan has been #3 for most of this year) and even a normal viewer, like myself, can see how much work and effort Lee Chong Wei has put into this year.
And the guy is soooooo nice. He's not the most aggressive player, and I think it reflects his personality. Of course I don't know him personally, but after watching dozens of his games, he seems like a really nice guy. In the beginning Olympic games he crushed his opponents, but he never seemed to take joy or pride in it. Instead, he seemed to really respect them, and try to make them feel good about their loss, never acting smarmy or too proud. When he wins, instead of jumping around and screaming, he usually just holds up his hands and claps his racket, giving a nod to his opponent, signaling the audience to cheer for the loser as well. He was "knighted" in Malaysia and as a small country with not many famous athletes, he's a very known and loved guy.
Lin Dan is the opposite. Cocky, arrogant, the bad boy of badminton, he once jumped up and did fist pumps when his opponent had to forfeit the game because he was sick and couldn't stand. (His opponent that day was Lee Chong Wei.) Lin Dan is super famous in China too, but no one thinks he is a sweet, friendly guy. In fact, he's kinda admired for his aggressiveness on the court. I mean it has made him world champion year after year.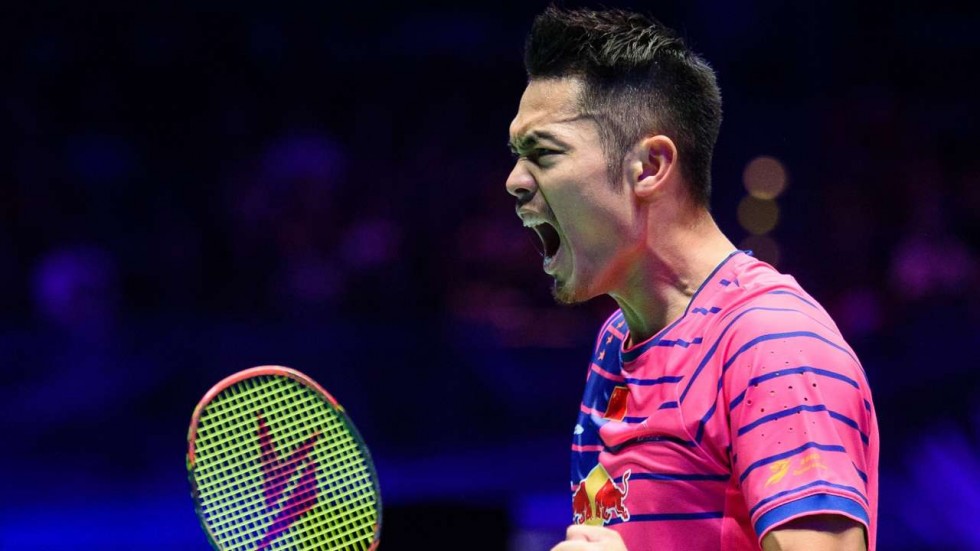 Just looking at these two, you can feel that Lin Dan is the "rich spoiled kid" in all the 80's movies, while Lee Chong Wei is more the "nerdy nice kid," and winning a gold medal was the girl they were fighting over.
And if Hollywood has taught us anything, it's that the nice guy gets the girl. The underdog wins, and this was the ultimate underdog story. Lee Chong Wei, the perennial nice guy who worked his ass of had one more shot at FINALLY achieving his dream against his most bitter of rivals, Lin Dan. he said he didn't want to do it only for himself, or for badminton, but for all of Malaysia. He wanted to make his country, a place that supported him and helped him become a legend, proud.
And at first, it looked like it was finally coming true.
In an epic battle, during their final Olympic meetup, the first game went to Lin Dan. The second game went to Lee Chong Wei and the third game was nerve wracking. (best two out of three wins.) It was point by point with not one of them coming out on top. 10-10, then 11-11, 12-12, etc. Neither was letting the other get too much ahead.
Then, right near the end Lee Chong Wei broke free and was up a few points. Lin Dan almost caught back up to him, but finally, Chong Wei WON! 22-20! He beat his lifetime rival and it was an incredibly moving scene. He fell to the floor crying, and then he jumped up and him and Lin Dan hugged, and then they took off their shirts and gave them to each other, hugging again. You could see that Lin Dan was pissed he lost, but also he was a bit proud for his friend. It was a big moment in the sport, and a moving one.
But that was only the semi-finals and Lee Chong Wei still had one more match to play for his gold medal.
His opponent? Chen Long, another Chinese guy, who is almost a decade younger than both Lin Dan and Lee Chong Wei. In fact, Chen Long was the world #1 for much of this year until Lee Chong Wei managed to top him.
The defeat came pretty quick, after just 2 games. Lee Chong Wei fought as best he could, the games were tied very closely for a lot of the points and the final score for both was 18-21, but it put him right back to where he always is: second place. Some said he was just too old compared to his opponent, or that he caved under too much pressure. But whatever the reason, the result was he missed his dream and now it's over.
Such a heartbreak! And so much so that even in China, one of the most nationalistic and patriotic countries, he got a lot of sympathy. My Wechat moments was filled with pictures of him, and sadness expressed at his loss. Even people that were overjoyed at China's win, showed a bit of sympathy to Lee Chong Wei. His hard work and dedication earned him a lot of respect not just in the badminton world, but the sports world in general. He's one of the all-time greatest players in the sport of badminton yet he never won a wold championship or gold medal. (Although he said he won't retire until the World Championship next year, giving him one more chance at winning a gold.)
So it was the perfect Hollywood underdog story complete with a bitter rivalry and Olympic dreams more than a decade in the making. Yet, it didn't have the Hollywood ending we all expected and therefore, it makes the whole thing so much sadder.