So, by now you know I love my racket, and my squeaky new shoes are fun to run around in. But I played before I had them, and if they were taken away, I can continue to play.
But there is one piece of equipment I cannot live without. I got it originally to help me during badminton and soon realized I couldn't leave my house without it.
That equipment? My trusty sweat bands.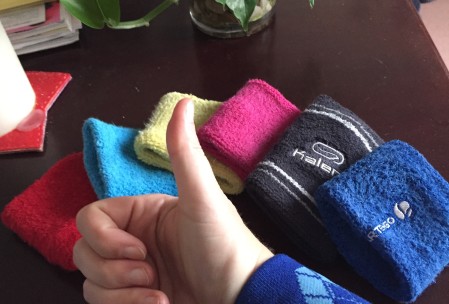 You see, I have been genetically"blessed" to have 85% of my sweat glands located on my nose. It's something I inherited from my grandma. At the first sign of heat, my nose beads up like a blade of grass at daybreak. And I used to wipe my face off with my hand. Only, with the huge amount of sweat that rolls off me in the tropical heat, my hand wasn't doing it. Like a squeegee my hand would wipe my sweat off leaving my hand totally soaked. Then I would have to wipe my wet hand on something. It was gross.
So I got a sweatband. And now I won't leave my house without wearing one, even on days I don't play badminton.
In fact, Saturday night I met one of my co-workers at the bus stop. I usually run into her on badminton nights and she asked me "Going to badminton?"
Offended, I said "No! I'm going to the Russian ballet! Do I look like I'm going to badminton?!" I had worn one of my crisp black button-up shirts, khaki pants and my "fancy" shoes (the slip on ones with no laces). I thought I was looking fancy.
"Kinda," she said pointing out my sweat band. She had a point.
Because one thick terrycloth band takes a day or two to dry out, and because I wear one everyday, I have amassed quite a collection. Different colors, different brands, and one even with a tiny hidden pocket.
If I was quirky in a Wes Anderson way, the sweat bands would be cool. But I dress like a 14-year-old and the sweatbands don't add anything except confusion. But I am someone who has always put comfort ahead of fashion so there ya go. I'd rather have an ugly sweatband than a wet face (or even worse, a wet shoulder where I keep wiping my face off). I love my sweatbands.